ok... keepin' it light today with some chuckles from my FIL....


All of you with any money left, be aware of the next expected mergers
so that you can get in on the ground floor and make some BIG bucks.
Watch for these consolidations in 2008:
1.) Hale Business Systems,

Mary Kay Cosmetics

,

Fuller Brush

, and W R.
Grace Co. Will merge and become: Hale, Mary, Fuller, Grace.
2.) PolygramRecords,

Warner Bros

., and ZestaCrackers join forces and
become: Poly, Warner Cracker.
3.) 3M will merge with

Goodyear

and become: MMMGood.
4.. ZippoManufacturing, AudiMotors, Dofasco, and Dakota Mining will
merge and become: ZipAudiDoDa .
5. FedEx is expected to join its competitor, UPS, and become: FedUP.
6. Fairchild Electronics and Honeywell Computers will become: Fairwell
7.

Grey Poupon

and

Docker Pants

are expected to become: PouponPants.
8. Knotts Berry Farm and the National Organization of Women will become:
9.

Victoria 's Secret

and

Smith &Wesson

will merge under the new name: Titty Titty Bang Bang

***********

ok.... well, ya know I made the 1st Teacher's Pet cut ...........
week 2's assignment is all about making unique extractions....

sooooooooo.... here's Fleece Corners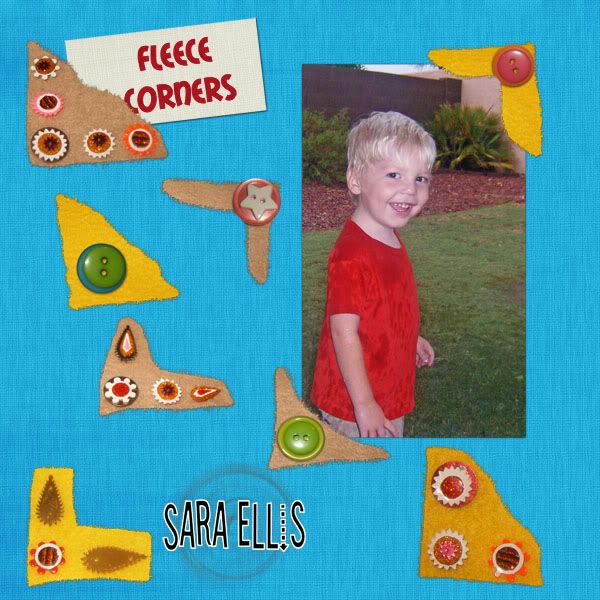 grab it HERE this and all the other week 2 assignments are freebies until Monday 9am EST
wish me luck making it to week 3


**************



Now... remember the Dream Kit I've been talking about ...... well, now we are in the middle of

Round 4

.......... it's up to you to decide what I am going to design for my segment.....




Well the first round of element suggestions is done, and Stacy Carlson has completed her round!
Using the theme "Fantasy" and the color swatch that was picked earlier (see
this gallery
for previous rounds) she created 4 elements by your request and one paper.
For this round you have a dragon, a frame shaped as a castle, glitter swirl and mushrooms. The paper has a night scene with a castle in the background.
For Round Four, we pass the kit onto me, Sara Ellis.
Simply post what types of papers or elements you would like in our Gallery comments section HERE.
I can only create pieces that you have suggested. You have from the time this is posted until August 8 to suggest what you would like, and then on August 9, Sara will post what she has created and pass this kit onto the next designer, and we'll do the same thing for that designer!
Everyone who posts during the process of the creation of this kit (any round!)will receive the kit for free. For those who miss out, they'll have to purchase it in the store.