OK...
I think many of you already know that my store at Gotta Pixel is closing soon which means lots of fabulous goodies for you! Everything in my store is only $1 or $2 which includes full kits, alphas, CU brushes & templates, and so much more.
Be sure to grab it now while you can because some of it will be retired
after my shop closes up.
(everything is either CU or S4H ok)
I am also offering blog freebies every few days.
Yesterday I added Hey Fishy Fishy's Elements

(papers will be added over the weekend, then the alpha).
As of right now, I am planning on taking a mini break from selling at another store. The change will be very good and refreshing. Please connect with me on Facebook (see my right sidebar for my Fan Page link) and Twitter. I really love tweeting and I share a BUNCH of fabulous stuff, not just digiscrap related. By connecting with me at one or both places you will definitely get the scoop about me and my designs, including my upcoming blog freebies. :)
You can also grab my button over there on the left & sport it on your blog. I think that would be oh so cool! :)
and......
This month, Gotta Pixel is celebrating its 4th birthday. The entire team has collaborated together to bring you an amazing collection with something fab for everyone!
Here's my contribution for the blog train -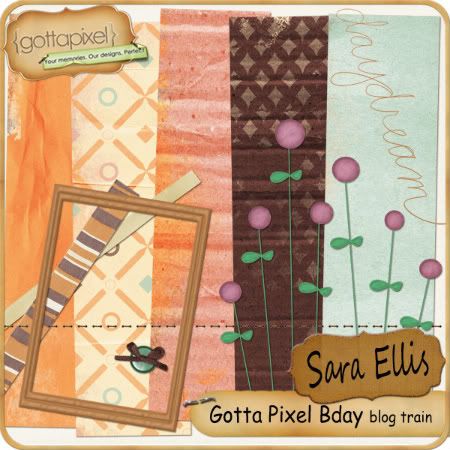 download my blog train freebie HERE
and you can hop over to Sarah Meyer's blog (SarahB Designs) to get one more Blog Train contribution