wow....I actually completed a couple LOs
This is the first time that I have made an LO in a couple months.
This first one is with my husband and son, Hudson, sitting in my hubby's old high school Camaro from the early 80s. Right now it sits over at his dads house with a tarp over it and it hasn't been able to run in several years. Jeff can't wait for the day when he can bring it back to life with our two little guys. As for now, every time we are over at their house, Hudson is obsessed with "driving" it with his Daaaa.
Credits: Kit, my Mini kit contribution for
DSC
's September Mega Kit....the fonts are Rostrum Two and Hockey is Lif
This adorable "sisters" one is of our friend's little girls. The newborn, Lily Claire, was the inspiration for this kit. All of the colors were taken from the original photo.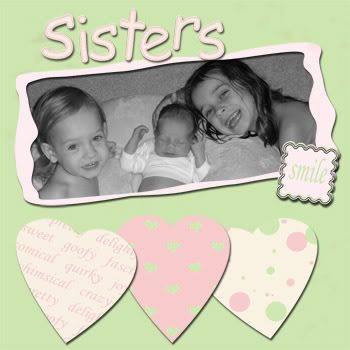 Credit: "Lily Claire" available as a
freebie at SBB
and "Lily Claire Blog Only Add-on" kit
available here
...I actually offered up this add-on freebie a few weeks ago so the preview is in a previous post, it includes three papers & a cute frame
***Please leave me a little love note when you grab my freebie....or just leave me a love note for the fun of it........thanks!