More FREEBIES...bunches of 'em too
dang! If you are looking for some goodies...this is the perfect place to find them....WOO-Hoo for you (AGAIN)
To grab one fab freebie of mine, my "Say Cheese Please" mini kit, you can have fun playing with my current
Descriptive Word Challenge
at DSC. It's all about depicting IMAGINATION. I think that leaves it wide open for soooo many different fun LOs, especially when little kids are involved.
my Challenge Freebie: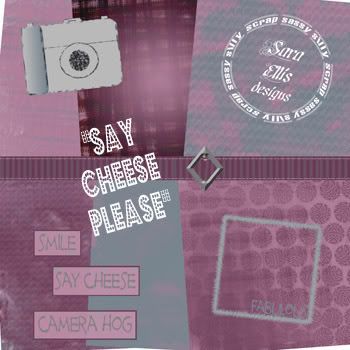 my ABC Imagination LO:
I did a LO with these pics in May, but I really didn't like it...now I love it....and now worthy of my ABC book for the grandparents.............as soon as our new blinds were delivered, Hudson just knew the boxes would make the perfect freeway for his vehicles
papers from Jeannie Papai's Boys Boys and more Boys Add-on and Rachel Solenberg's Theresa kits
star is by me (Sara Ellis)
font is arial black
Now...for 9 mini kits (yes, that's right....9 of them) which make up
one very large MEGA kit
...you better run fast, before some of those links start disappearing .... DSC's November Mega kit is all about "giving thanks".
My contribution was the last one to be unveiled for it. Just scroll down a smidge and you can see my "Family Dinner" preview.
Last...but not least....... one other LO to share:
journalling: Hudson.... I was so bummed I didn't have my camera with us while we were in the frontyard waiting for the mail to be delivered today. You were being the best overprotective big brother you could be. Every time you heard a car, you had to go hold Griffin to make sure he didn't wander down our driveway. I just kept telling you how precious & sweet you were being. It was the first time I'd ever seen you act that way. 11.27.06 ~Mom (Hudson is 26 mo & Griffin is 13 mo)
this is the first time I've ever done a LO w/o a picture.... I just had to remember this moment...it was way too precious!
Annie papers by Sara Ellis (me)
paisleys (colored in) from Tiny Village of Paisleys by Valerie Fowler
doodle heart, staples, and Sooo Cute from Girl Notes by Lauren Grier
font is Hockey is Lif
don't forget:
1) leave me some lovin' ..... I love reading all the comments
2) check back here often (hint hint...bookmark my blog)...you never know when a FREEBIE will pop up (hmmmmm, is one still available now???....scrolling down should become a hobby of yours)
3) Scrap yourself Sassy Silly!