Gobble Gobble...Happy Turkey day FREEBIE
Oh my..this is the longest I've gone without posting a little of anything on here. I'm such a blog slacker, aren't I? Bad me. I've just been busy working on my new ABC book for all of the grandparents for Christmas. I'm now working on "I" for Imagination and working on my newest
Scrap Shop kit for DSC
. If you don't know, I get to sell one kit a month since I'm on their Elements Team.
Before I share my goodies with you, I wanted to share a little tidbit from a
"thankful" thread
at
TheDigiChick
.
What I'm thankful for:
1. I am thankful for having a houseful of boys (including my big boy husband).
2. I am thankful I live in Phoenix with BEAUTIFUL weather (upper 80s this week & we've been hangin' in the backyard listenin' to Christmas tunes).
3. I am thankful that I am a SAHM and can see my little ones do crazy stuff every day.
4. I am thankful that my MIL watches the boys almost any time I want a break.
5. I am thankful that my husband only has a broken rib and didn't puncture anything crazy inside (Friday night stood on a stool, fell on it, pain for a few days, finally went to Urgent care Tuesday...yes, he wasn't too smart).
6. I am thankful that we have duct tape to make sure that Hudson doesn't remove his diaper late at night or early in the morning. (started this three nights ago & it's FABULOUS) :)
7. I am thankful I get to play with the digi chick chickies. How fun.
__________________
DSC has 4 links available right now for their
November Mega Kit
. So that means you can grab 4 Thanksgiving themed mini kits. How fun for you! The links are only up for a limited time, so scurry on over there now. My contribution isn't available yet, but please check back often so you can grab it. Here's a little preview of mine, "Family Dinner":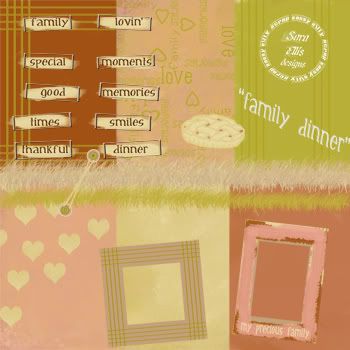 This week I've been working on my December Scrap Shop kit, "Frankie". I'm loving it. It's a little retro with great golds, blues, & greens so it's fun for a boy or girl. My little Thanksgiving goodie to you is the Frankie Sneak Peek Sampler. Woo-hoo! All of the papers have a great little texture to them.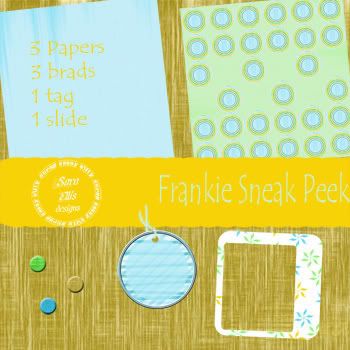 Download option 1
Download option 2
As always, please leave me some lovin' when you grab my FREEBIES.
Now eat yourself silly today and enjoy your family time! We're heading over to both sets of my hubby's parents houses today (no cooking again for me...yay!). It will be another long holiday day for us. Hopefully all of the boys will do ok (including my hubby since his broken rib & medication made him get sick 3 or 4 times yesterday. So not fun for him if he can't eat all of the huge spreads.