it's LO sharing time again
ok...here's a few LOs that I have recently made...
Griffin's 1st birthday...it's with his Aunt JuJu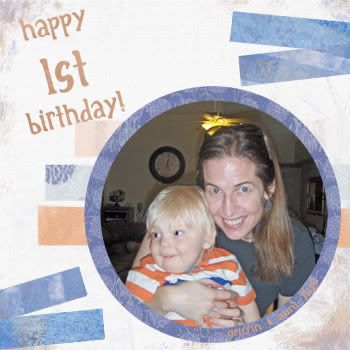 Luminous Life kit by Sara Ellis (me)
available at DigiScrapCentral's Scrap Shop
template by Victoria Feemster at
One of a Kind Skrapz
(oodles of challenges there)
font is initial
another birthday pic ...
journaling: It took you a little while to figure out what to do with your cake, you had so much more fun playing with it than you did eating it. Happy 1st Birthday, Griffin!
sketch by Nikki for a
sketch challenge at TheDigiChick
Sweet Liberty Paper Pack Essentials from
DigitalDesignEssentials
font is Century Gothic
my first All About Me page...me wearing a goofy tiara at my sorority's convention, June 2006
Perfect kit by Sara Ellis (me) available at
DigiScrapCentral
Andrea Burns' Sampler rose available at
TheDigiChick
fonts are initial, douglas adams hand, convential wisdom
Every game day during the 2004 football season our son, Hudson, had to wear his ASU gear...and Daddy just had to have pics taken before he left for the games......
Sept & Oct 2004 Hudson was 11 days to 1 mo 9 days in the pics (Daddy is the one with the goatee)
Team Sparky kit
by Sara Ellis (me)
sketch by Rachel Giallongo for the current
sketch challenge at TDC
fonts are initial, century gothic, ms serif
DUCKS! Hudson, Sept. 2006....are we lucky or what? since we live in Phoenix, we can have a beautiful walk to feed the ducks most anyday of the year...it's just very HOT in the summer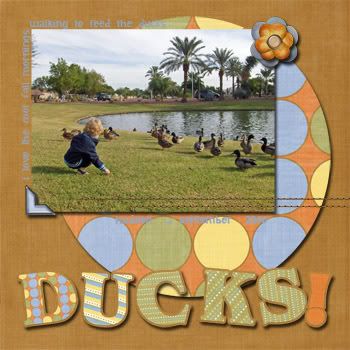 journalling: I love the cool fall mornings walking to feed the ducks.
September Sun sampler
by Laura Alpuche available at TDC
font is initial
I hope you enjoyed! Now it's time to find a new pic to scrap. :)