a WONDERful challenge at DSC
My newest
Descriptive Word Challenge is now running at DSC
. Woo-Hoo! The word of the moment is WONDER. Just make a LO that showcases that word in one way or another.
Get more info here
.
Participate in the challenge and you will receive my "Team Sparky" mini kit when the entire challenge is over. It runs until November 19th.
Team Sparky includes 8 papers (textured smudges & patterns), 1 fiber, 1 ribbon, 2 paperclips, 2 arrow stickers, 3 word arts.
Here is my wonder LO. It features my youngest son, Griffin, at 11 months looking out at our backyard.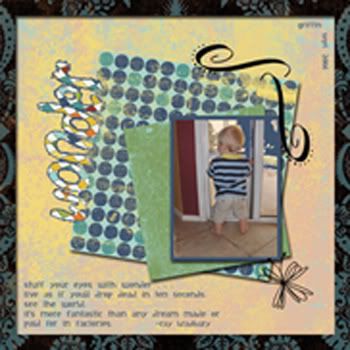 journaling: Stuff your eyes with wonder . . . live as if you'd drop dead in ten seconds. See the world. It's more fantastic than any dream made or paid for in factories. ~Ray Bradbury
Good Times (papers & butterfly doodle) by Michelle Underwood, Doodle Swirl by Megan Leeson,
fonts are initial & levity
now....go Scrap Sassy Silly!!!! so you can grab this great little kit
*****don't forget to scroll down to see if you can grab a freebie here right now ****