This morning I took Hudson and Griffin to Ikea for breakfast. It was the first time in a few months. Who knows why it has taken so long. I love that place and it's only about 5 minutes away. It is yummy and super cheap! I ended up with two kiddie breakfasts (almost the same size as mine), a regular breakfast, Loganberry Juice, a new big plastic tumbler cup for my dh, and a new set of plastic cutlery for the boys... all for under $10. So cool!



***********



Oh... speaking of fab bargains........ it's the extra 25% off time at Gap.... at least in Phoenix. You might want to check your local stores. All merchandise currently reduced is an additional 25% off. I get my employee discount off of that too. I swear, I can't afford not to work there. I've picked up tees for the boys and me for $2-4, jeans for Griff for $3 and $10 jeans for me. I so love bargain shopping, especially for brand spankin' new clothes too!



**********



Did you watch the finale of The Bachelorette? I've missed the last couple of weeks because of work. I was suprised that DeAnna chose Jesse, but so happy too. I watched After the Rose last night and they are soooo cute! I really loved Jason too, but it looks like Jesse is one hell of a catch too.



**********



OK now, last week I added

So Very Summer

to GP. Amy Sumrall has had her half in the store for a couple of months. I was way behind with mine, but I love how it turned out.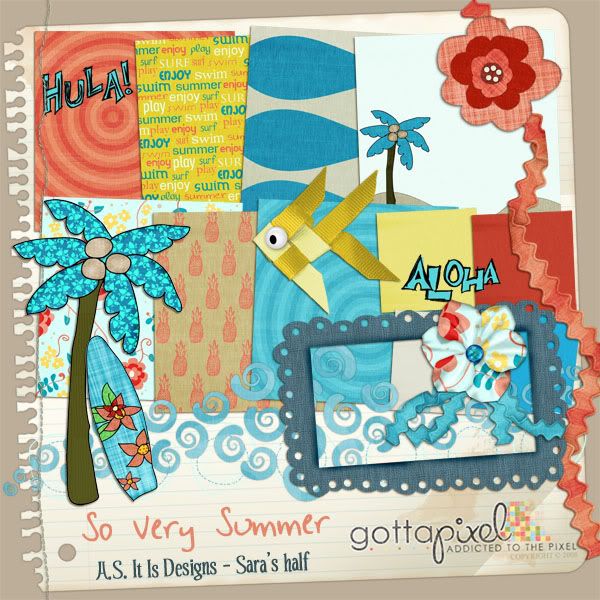 just for my bloggin' friends....
my part is
40% off
until midnight July 15th, coupon code is SE_blog_7272 ... you must use it on the "view cart" page ................ enjoy!
**********
and now... what you've been waiting for.........
I haven't offered a

FREEBIE

here in a very long time. Lucky for you everything on my EHD was lost in space for a couple of months until my dh hooked it all up again. Woo-hoo!
sooooooo... during my co-Designer Spotlight in May, I placed a few add-ons in my Gotta Pixel store to coordinate with my Daily Download kit. One cute little pack didn't get added since it was stuck in never never land until just recently. That is now yours here. Aren't you a happy camper??
A Springy Shindig: Flowers
includes 1 ribbon stem, 4 plain flowers, and 6 ribbon embellished flowers



************





stay tuned.........




my first regular CT call in quite some time is coming later this week