Christmas Goodie - Day 2 - woo-hoo!
I am so puzzled. Somehow a couple of my files vanished from yesterday. How can they just disappear???? I don't understand it. I've searched on my hard drives for both my desktop and my laptop, plus my e-drive, and they are
nowhere
to be found. It's just too weird! One of the files was my goodie tree from yesterday. So now you all have it, but I don't. It was sooo popular the link is already expired. Too TOO weird! Both the files were ones I made yesterday (the other was some sorority stuff I needed). I wonder if I'll find out later than I'm missing something else.
Oh well....time to move on.........and give you your 2nd goodie. Your 3rd one won't come until Monday or Tuesday since I'm heading to Vegas in a few hours. Sooooooo....here is some fun wordart for you. It's not your typical Christmassy colors, but I'm sure it will fit in well with some of those great funky kits out there right now....OR just recolor to better fit your needs (BUT please don't forget to credit me for the design). One, the Happy Happy Joy Joy one, is great for Hanakuh things or just any ordinary fun days too.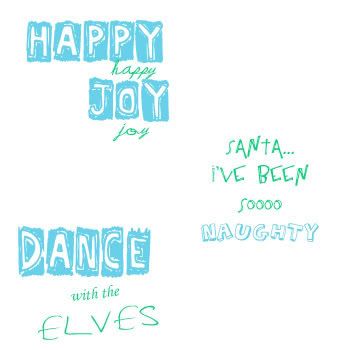 Download option 1
Download option 2
Download option 3
Dang! Did I just get VERY generous or what???? It was such a speedy upload and since I'll be away for a couple days, I figured I'd be extra nice to make this goodie last a bit longer.
Please enjoy, leave me a comment, scrap sassy silly, and give me credit (no piracy ..please).