Today I learned more about Twitter.
Friday is #ff or #followfriday day.
That means nice tweets pimp all the interesting tweeters they follow, which means more people start following you. I pimped all of these lovely ones: @GapOfficial @GAP_StoreNews @Gap_CasaPaloma @mutigersdotcom, @mizzoufootball, @AlphaPhiIntl @TheEllenShow @chelsealately @eonline @EWPopWatch @peoplemag @TheOnion @aplusk @connieprince00 @jenreed @HeatherM74 @nicoleseitler @digiscrapaddict @GottaPixel @_sarah_b_ @scrappinmichele @ccmentor @justsimplysarah @starxlr8
.. and a huge thank you to @connieprince00 @digidesigns @marcelgadget @_sarah_b_ for mentioning me (@SaraEisMe)
Now the difference between the @ and the # - @ means you are talking directly about or two the person named. The # means you are referencing a subject.
Soooooo... would you like me to follow you or can you refer someone to me who might be pretty interesting?
************************
How would you like your own brag book with hardly doing any work?
If you are interested, I will provide you with a brag book sized kit that coordinates with my Lucyboo available in my store. That means each page is only 4x6 and all elements are sized to fit the pages.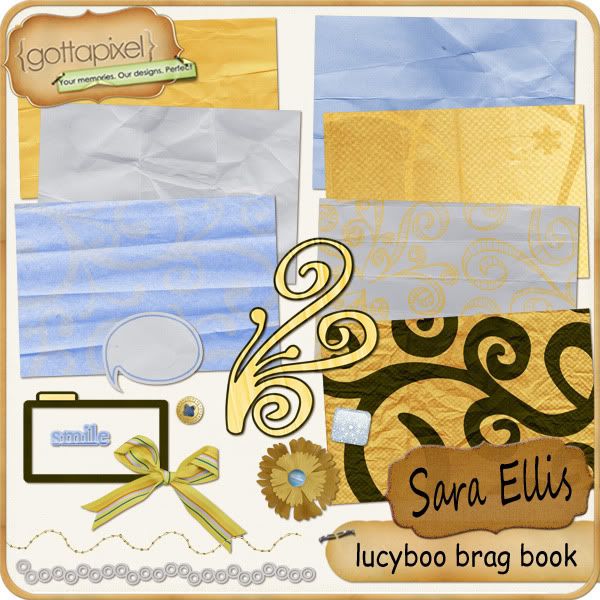 It's my October Blender Challenge!... woo-hoo!!!!!!
For more information & to sign-up... see HERE
************************
Now... don't go away yet.......... would you like a freebie mini kit? It's part of a very very large weekend blog train. Every contribution coordinates to make one super ginormous collaboration kit. You can find it HERE. Enjoy and Scrap Sassy Silly!!!!