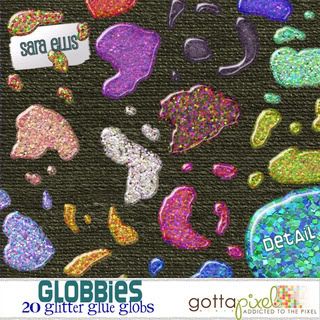 Everyone loves glitter, right?? Well, how about mixing it with a bit of glue and throwing in on your paper and other masterpieces for some extra texture and fun? Or...better yet....just get Globbies by Sara Ellis.

You'll get little globs and clusters of glitter glue globs in a variety of colors..... 20 different ones to be exact.

see more HERE

**** BONUS ------> receive 30% off until January 26th with coupon code
SE_BLOG_0119
**************

only 27 hours plus remaining on my Silpada jewelry listings on Ebay...there's some fabulous goodies... don't miss out

*************

and.......my little Gap plug........

all sale merchandise - every department -
is an extra 25% off the marked sale price - the extra 25% will automatically be deducted at the register

the cute curly ballet flats are $4.97 (addt'l 25% off that)... I think we just have the bronze and the plaid ones left...but there are pretty many available

lots of bras are $4.97
panties (I HATE that word) ... anyway...bunches are $1.97
not to mention all the clothes that are already under $10...some as cheap as $4.97 before the extra 25%

the location I work at has tons of goodies available......so I'm sure a bunch others do too......but I'm not sure about online, I haven't checked that

*****************

ok... enough enabling for today