I've been working a ton at The Gap lately with Christmas creeping up so fast. I really love it and it's great for Jeff to have more time alone with the boys.
Every night that I don't work, I take them for a drive to see Christmas light displays. Around 5-5:30 Hudson always asks "Santa Beep, Santa Beep"...that's his way of asking to go see Santa and the Jeep. There is one house that has a Jeep Wrangler on risers with a huge blow-up Santa holding reigns to his reindeer that are on the rooftop. They just love it. It is at the end of a street where every single house is decorated with lights and tons of yard ornaments. It definitely is a must-see for us. I'm sure they'll be sad soon when it all disappears after the holidays.
Today is Hudson's last day of preschool before break. It's just a fun day - a little field trip to our movie theater. All of the kids get to go behind the concession stand to see how it works and then watch some movie trailers. They even get a free drink and popcorn to watch the trailers. I think the only time I've taken him to the movies was when he was an infant. Griffin gets to come along too. I'm sure they will have a blast.
Tuesday we brought a variety of home-made chocolates (peanut butter balls, golden grahams/marshmallow clusters, and peppermint bark) to all of his teachers and his 4th grade reading buddy, along with a special card just from him.
He made the gingerbread man a week ago with his buddy.



********



Right now at DST there are a few very interesting threads that I keep checking on. I've added a reply here or there too (

raising your sons

,

cake balls

, &

other holiday treats

)



********

OAKS has been down for a few days now

. I'm feeling a little homeless at times, as well as many others. I'm sure Victoria has one huge headache too. Please be patient. Hopefully it won't be too much longer. At least the

store

and the

blog

are still accessible and we're able to add new goodies for your shopping pleasure.



*******



I have been continuing to add goodies to my Gotta Pixel almost every day. YAY!




The most recent items are:



(image is clickable
)
Looking for some super fun painted frames to accent your masterpieces
?? How about something from the Ugli-esh collection by Sara Ellis
?

Ugli-esh Frames include 8 different multi-toned painted frames in a variety of sizes (4x4 - 5x7)
seven single frames, one double frame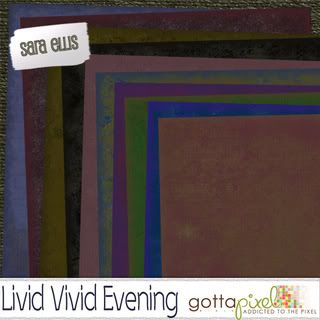 (image is clickable)


Livid Vivid Evening by Sara Ellis

Every paper has a different texture from the rest of the bunch. Each one also has between 3-6 shades/colors/textures for total uniqueness (is that a real word???) .... well, each and every one is truly unique since I made every one individually.

10 textured somewhat solid papers included

Cardboard, fingerpaints, and glitter ........... what else could you ask for???????
the MIY: Make It Yours Collection, by Sara Ellis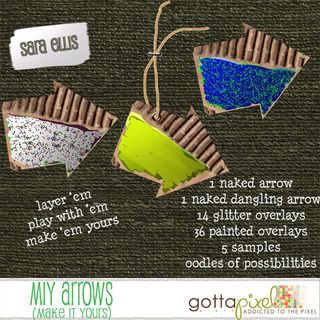 *pick a cardboard arrow
*pick 1, 2, 10+ paints &/or glitters
*layer them in your desired positions
*tilt the layers to fit the hanging arrow
*adjust the opacity
*get funky fun

and don't forget.....



(20% off SALE only at

Gotta

Pixel

)



************


my

Word Up! challenge

at Gotta Pixel will begin on the 26th.....




Let's all have some fun with this one
Each month on the 26th I will have one word that will be the main focus and then throw in a couple of extra twists that you will have to fit into your LO
for example....

*the word "spirit" will be the theme and must use the word on your LO
(examples: team spirit, ghostly spirit, spirited life, etc)
*must only use one picture
*must use blue as the predominant color

each participant will receive a little thank you participation prize from me
**********
and.........
Merry Christmas from me and my family....and Happy Hanukkuh...and all other festive celebrations
[IMG]http://i68.photobucket.com/albums/i23/mesaraee/cardchristmasweb.jpg[/IMG]