now appearing in my fabulous OAKS store......
Miss Tilly Tuttle's Paper Pack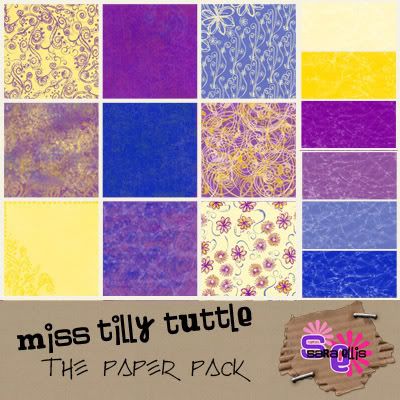 and...
Miss Tilly Tuttle's Add-On Sampler (oh yea, it's a freebie)
you can grab both of them
HERE
ok...after I made my first couple of papers for this fun fun paper pack...
all I could think about was Dr. Seuss....I have no idea why ..........
soooooooooo, I had to come up with a funky Dr. Seuss-like name -
so that's how I came up with Miss Tilly Tuttle ........
Isn't that so silly?
Just like my papers..funky and goofy fun!
This includes 9 patterned & 6 solid papers...all slightly textured.
Each JPG image is saved at a high quality, 300 ppi.
and....as you can tell, a Miss Tilly Tuttle add-on freebie is also available, which includes 3 more coordinating papers and a few accessories to dazzle your papers.
and......more exciting news.....
a new sampler or bargain bin will be added to the OAKS store very soon ......
won't that be incredible?????
Miss Tilly Tuttle's add-on will go in there, as well as fun samplers from the rest of the design team.