Hey there, hi there, it's freebie time again ...
Did you ever think you'd find this many freebies in such a short amount of time? I told you earlier to keep checking back and if you are doing just that...THANK YOU ... I really appreciate it! Don't forget to tell me in the comments. I would also love to know about any gallery postings you do with my kits so I can see how much fun you are having with them.
Anyway...after a couple of requests for primary colors with basic shapes, along with some crayons.........I just finished "Co-Co's Color Wheel" kit this morning. It has 14 total papers, an Alpha, and loads of embellishments. As you will be able to tell in the preview, I couldn't just leave it with only primary colors. The secondary colors jazz it up a bit.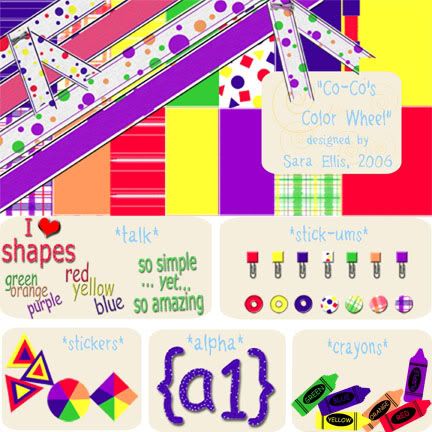 Please enjoy "Co-Co's Colorwheel"
freebie download.
For those of you wondering about my design team applications.....I'm in the same boat as you. I applied for 3 team calls at the end of last week and I'm still waiting for any word. Keep sending me your well wishes! I'm going to check
Just Digital Calls
over the weekend to see if there are any more openings that I'd like to apply for.
Smiles & Have a groovy weekend!!!!!
-Sara E