Gotta Pixel's Blog Bunny Hop!!!!!

The bunny hop begins November 1, 2008 EST. Not all the blogs have their contribution up, so wait until November 1!
Welcome to the first ever Gotta Pixel Blog Bunny Hop!!!
Several Gotta Pixel designers wanted to do something fun for Digital Scrapbook Day, and give our wonderful members a little Thank You!

Each of us have created a freebie for you to download, and all you have to do to get all of them is to follow the BUNNY!



Even better... inside each of our zip files is a secret word. As soon as you have collected all 16 freebies, get the secret words from the zip file and head over to Gotta Pixel to
this thread
and you will find instructions on how to submit those secret words in to be entered to win a 1 year Gotta Pixel Pixel Club Membership. Gotta Pixel is giving away 4 of these memberships for the Bunny Hop, so make sure to collect all those secret words!!!

You will find the bunny on all the following blogs:

Stacy Carlson
,

Kathryn Estry
,

Michelle Pieters
,

Jill D-Zines
,

Sweet Digi Scraps
,

Sarah Meyer
,

Randi Oh Designs
,

Lynne Simmons
,

Paula Yagisawa
,

Isabel Mendez
,

Mad Scrapper Designs
,

Connie Prince
,

Cherie Shields
,

Michelle Swadling
,

Kim Cameron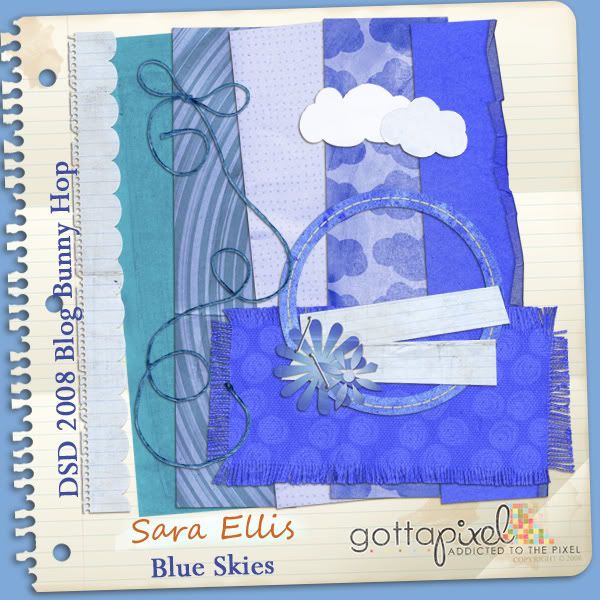 download Blue Skies
HERE



*******************

alsooooooooo.... sales sales sales and FWP collabs at Gotta Pixel and Scrapdish.......... a brand spanking new store......
all that news will be posted in a few hours

til then.................. Happy Halloween!!!!!! and Scrap Sassy Silly!!!!