Introducing............
FUNTAINERS!!!!!
Congratulations to Dale Ann Cubbins for her winning suggestion!
Funtainers
are now available
at OAKS, as well as the co-ordinating
Flowerifics
.
This fun fun funtabulous Funtainers set contains various flower pots, flower boxes, vases.....in 12 different designs from pretty plain to bright & fun .........and have paint that is crackling off of them .......
ideas for usage:
house one long stem flower,
hold up a picture with a photo prong,
cluster a bunch of flowers together for a cute bouquet
.....or...
how about even using one as a storage container for some cars, crayons, ribbons
......oh my, there are so many fun things you can do with these
Flowerifics
is the funnest build-your-own flower pack!!! All items (except for one stem) are crackled paint. The set includes 16 flowers, 4 centers, and 3 stems (one pewter).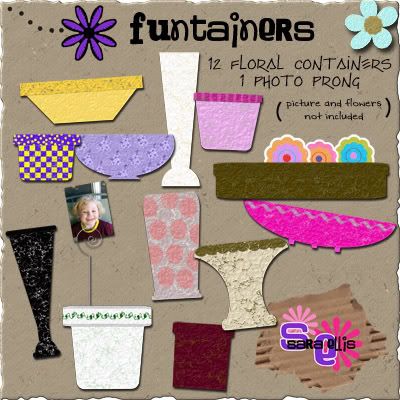 *****
please don't forget to scroll down and grab a groupie blinkie, if you'd like