yesterday morning I was a witness to a dog attack close to my house at a greenbelt
well, it really opened up my eyes about having my guard up when we see dogs when we are out for a walk
I was over at the big patch of grass that dips down... Hudson wanted to play "chase me" & I'm so glad we didn't get started with that...........
there was a woman with 3 larger dogs resting on the smaller patch of grass on the opposite side of the sidewalk right there...... and another woman walking her two Yorkies through the big greenbelt and as soon as they got in the sight of the big dogs, one and then the other two took off for an attack..... (they were on a leash, but not a firm grasp & the owner was looking the other direction talking on the phone)................the attack dogs owner came to try and get her dogs and I ran over and pulled two of the big dogs off.... luckily a woman on the other side of the street came over to take care of my boys while they were screaming
when all was over... a nice woman driver took the little Yorkies to the vet... Nick is ok, but Nora had an intestinal issue with surgery and an infection last night, hopefully she recovers ok............. the owner had a chunk taken out of her arm.........I talked with her this morning, she had her first skin graft last night and will have to have another couple later
I stayed around for quite a while, the last witness...but I have no idea what happened with the attacking dogs... Animal Control was with with them when I left to take Hudson to school (the one that bit her was a Pit mix)
sooooooooooooooooooo.... now I am really going to have my guard up whenever I see dogs when we are out for a walk........please be aware of your surroundings... it only takes a brief moment with no warning for something like this to happen
*********
and.......... I have some fabulous, super fabulous edges now available at both Gotta Pixel and Scrapdish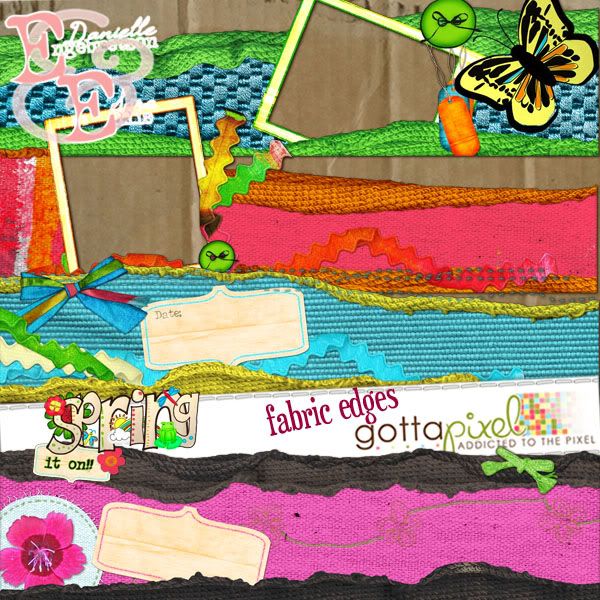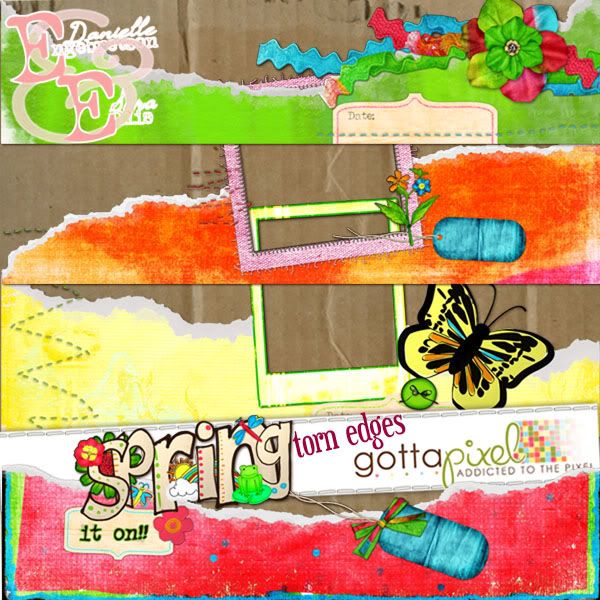 How would you like the ease of having a portion of your layout already created for you.... while you can still be creative with the majority of it?

These edges are just the perfect ticket for happiness.

1 set includes 4 fabric edges and 1 set includes 4 torn paper edges, all are already embellished with loads of artsy, springy fun for you.

*all are Scrap for Hire ok*

This coordinates with the Spring It On Collaboration kit by Sara Ellis and Danielle Engebretsen. The edges were created by Sara.

Purchase either set together with the collab page kit and save 20%.



(all previews are linked up
)

AND.... I have a fabulous coupon in this month's DST Insider - use it and save a bunch of money honey!!!