oh, I wish Mother's Day was every day....
Cooper shipped a little gift that came on Saturday. It's a flower box/picture frame. It came with paints for Hudson and Griffin to paint the back and sides. Soil and Forget-me-nots seeds were included. Hopefully they'll start growing soon. I had to leave the house for a bit Saturday night so they could paint it for me. Isn't it so sweet?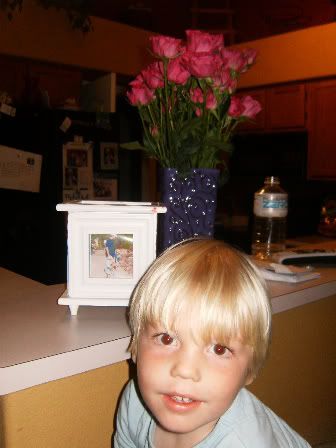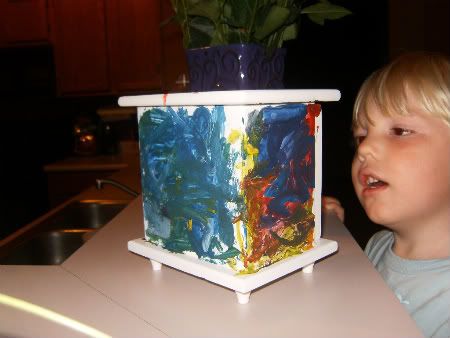 it's in front of my beautiful big bunch of bright pink roses... and Griffin is posing in front of them

I was able to sleep in Sunday morning, with breakfast and roses waiting for me. I later took the boys to the pool. Then had crab and baked potato for dinner.

and... then... rewind to Thursday...... we had a parents party for the last hour of preschool. one of the things the kids could do was make big paper bonnets for us or themselves. Griffin refused, but Hudson made this for me. Two teachers taped a large piece of paper around my head, then rolled the edges, & Hudson decorated it.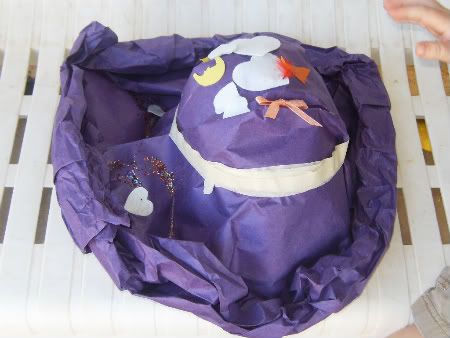 please disregard the weird look on my face in the pic

*******

ok.... I've mentioned this before... but I just have to do it again....
I LOVE The Thrifty Chicks! They just have the coolest fun bargain hunters blog. If you really want some fabulous Goodwill inspiration, you have to check out their fab fashion show.

*******


I have 3 new template sets available for Gotta Grab It.... only $1 each (Tuesday is the last day for this bargain.. so you better hurry!)

AND.... my entire Template Tools collection in now Commercial Use ok


grab them HERE